Bestuur / Board
Op donderdag 23 juni 2022 is er een nieuw bestuur verkozen! 🥳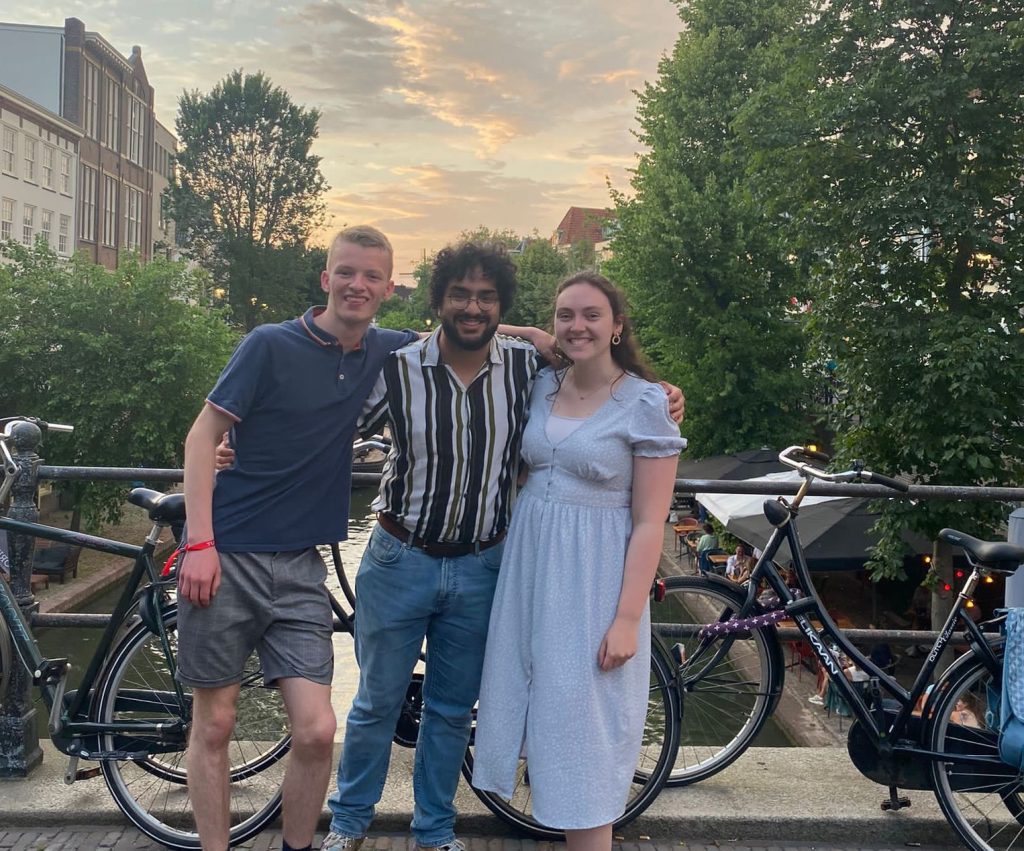 Van links naar rechts / from left to right: Gijs Broere, Imraan el Hamdaoui en Judith Dekker
Voorzitter – Gijs Broere (hij/hem)
Hoi lieve DWARSers! Ik ben Gijs, 18 jaar, en kom uit Soest. Ik studeer Bestuurs- en Organisatiewetenschappen aan de Universiteit Utrecht. Dit jaar ben ik de voorzitter van DWARS Utrecht, het jaar daarvoor was ik al penningmeester en vicevoorzitter van de afdeling. Dat vond ik zo leuk en leerzaam, dat ik ook dit jaar wilde besturen, nu als voorzitter. Ik zit op atletiek en houd van denkspelletjes, Formule 1 en politiek. Waar ik mij het meest druk om maak in de politiek is de economische onrechtvaardigheid. 
Aanvullende taken: campagne
Contact: voorzitter.utrecht@dwars.org
Secretaris – Judith Dekker (zij/haar)
Hoi allemaal, mijn naam is Judith, ik ben 24 jaar oud en woon in Utrecht. Het komende jaar ben ik jullie secretaris, een taak waar ik heel veel zin in heb! Naast de secretaristaken zal ik me ook bezig houden met de politieke portefeuille en mag ik Gijs voorzien van ongevraagd advies als vicevoorzitter. Als ik niet met DWARS bezig ben, ben ik in Den Haag waar ik werk als projectmanager en redacteur van websites over Nederlandse en Europese politiek. Verder ben ik in mijn vrije tijd vaak druk met uren Nintendo spellen spelen, ga ik graag naar concerten en festivals en kijk ik naar Formule 1.
Aanvullende taken: vicevoorzitter, bestuurslid politiek en communicatie
Contact: secretaris.utrecht@dwars.org
Penningmeester – Imraan El Hamdaoui (hij/hem)
Hey iedereen, mijn naam is Imraan en ben jullie penningmeester van dit jaar. Ik ben 27 jaar oud en woon sinds ik uit mijn moeders buik ben gekomen in Utrecht. Als ik niet bezig ben met links propaganda te verspreiden tussen studenten (met andere woorden, bezig met DWARS), studeer ik Social Work in Almere. Dus als het slecht gaat met je, app me en ik help je eruit. Ook loop ik nu stage bij Handjehelpen, een vrijwilligersorganisatie die mensen helpt aan een maatje die hen kan helpen met verscheidene oplossingen. Meestal zijn dat mensen die het wat moeilijker hebben. In mijn vrije tijd doe ik graag aan bordspellen, staar ik intens naar mensen in de trein en lees ik graag boeken over discriminatie en gender.
Aanvullende taken: activiteiten
Contact: penningmeester.utrecht@dwars.org
---
A new board was elected on Thursday, June 23, 2022! 🥳
Chairperson – Gijs Broere (he/him)
Hi dear DWARSers! I am Gijs, 18 years old, and I come from Soest. I am studying Administrative and Organizational Sciences at Utrecht University. This year I am the president of DWARS Utrecht, the year before that I was treasurer and vice president of the department. I enjoyed that so much and learned so much that I wanted to be in charge again this year, this time as chairperson. I am a member of the athletics team and I like thinking games, Formula 1 and politics. What I am most concerned about in politics is economic injustice.
Additional tasks: campaigning
Contact: voorzitter.utrecht@dwars.org
Secretary – Judith Dekker (she/her)
Hi all, my name is Judith, I am 24 years old and live in Utrecht. The coming year I will be your secretary, a job I really look forward to! Besides the secretarial tasks I will also be working on the political portfolio and I can provide Gijs with unsolicited advice as vice-chairperson. When I am not busy with DWARS, I am in The Hague where I work as a project manager and editor of websites on Dutch and European politics. In my spare time I often spend hours playing Nintendo games, I love going to concerts and festivals and I enjoy watching Formula 1.
Additional tasks: vice-chairperson, politics and communication
Contact: secretaris.utrecht@dwars.org
Treasurer – Imraan El Hamdaoui (he/him)
Hey everyone, my name is Imraan and will be your treasurer for this year. I am 27 years old and have been living in Utrecht since I came out of my mother's womb. When I'm not busy spreading leftist propaganda between students (in other words, busy with DWARS), I'm studying Social Work in Almere. So if things are going shitty for you, text me and I'll help you out. I'm also currently doing an internship at Handjehelpen, a volunteer organization that helps people find a buddy who can help them with several solutions. Usually these are people who are struggling a bit. In my free time, I like to play board games, stare intensely at people on the train and read books about discrimination and gender.
Additional tasks: activities
Contact: penningmeester.utrecht@dwars.org