Bestuur / Committee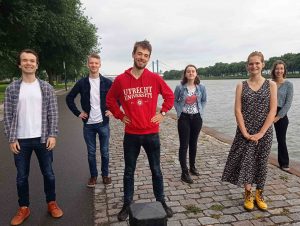 Op zaterdag 26 juni is er een nieuw bestuur verkozen! 🥳
Voorzitter – Arthur Eveleens (midden) / Chairman (midst)
Ik ben Arthur, 20 jaar en voorzitter van de afdeling Utrecht van DWARS. Ik studeer rechten in Utrecht en woon in Kanaleneiland. In mijn vrije tijd ben ik boos over onrechtvaardigheid in de wereld en de onverschilligheid van mensen met macht over de natuurrampen die op ons afkomen. Ik zit bij DWARS om hierover door te praten, en nog belangrijker, om de straat op te gaan om verandering af te dwingen. We spreken elkaar bij DWARS!
I'm Arthur, 21 years old and chairman of DWARS Utrecht. I study law in Utrecht and live in Kanaleneiland. In my spare time, I get angry about injustice in the world and the disregard of people in power towards the natural disasters that are coming our way. I joined DWARS to continue talking about these subjects, and more importantly, to take it to the streets to force change. I will hear from you soon at DWARS!
Contact: voorzitter.utrecht@dwars.org
Secretaris – Pien Slooter (vierde van links) / Secretary (4th from the left)
Ik ben Pien, 20 jaar en secretaris bij Dwars Utrecht. Ik studeer grafische vormgeving aan het Grafisch Lyceum in Utrecht en had voordat ik bij DWARS begon nog geen ervaring binnenin de politiek, maar ook toen kon ik vrijwel meteen bij het bestuur komen. Dat vond ik heel leuk om te zien. Ik vind het belangrijk mij in te zetten voor diversiteit en het klimaat en doormiddel van DWARS kan ik daar ook iets voor doen.
I'm Pien, 20 years old and the secretary of Dwars Utrecht. I study graphic design at Het Grafisch Lyceum in Utrecht and had no experience in politics before I started here at DWARS, but even then I was welcome to join the committee almost immediately. Which I really appreciated. I find it important to work on diversity and fight against climate change, and through DWARS I can.
Contact: secretaris.utrecht@dwars.org
Penningmeester en vicevoorzitter – Gijs Broere
(tweede van links) / Paymaster & VP (2nd from the left)
Hoi, ik ben Gijs! Ik ben 17 jaar oud, woon in Soest en zit in 6VWO op het Griftland College. Ik ben de penningmeester en vicevoorzitter van DWARS Utrecht, wat superleuk is! Na de middelbare wil ik graag een studie doen waarmee ik de politiek in kan en kan strijden voor DWARSe idealen. In mijn vrije tijd doe ik ook aan atletiek en schaken. Bovendien ben ik een fan van de Formule 1.
Hi, my name is Gijs! I'm 17 years old, live in Soest and am now in my sixth year at Het Griftland College. I am the paymaster and vice-chairman of DWARS Utrecht, which is so much fun! After secondary school, I want to choose a study that will allow me to enter politics and fight for the ideals of DWARS. In my spare time, I play athletics and chess. I am also a fan of Formula 1.
Contact: penningmeester.utrecht@dwars.org
Bestuurslid Politiek – Sheila Guha Thakurta (helemaal rechts) / Member of politics (Right)
Hoi! Mijn naam is Sheila, ik ben 23 jaar oud en ik ben dit jaar bestuurslid politiek van DWARS Utrecht. Ik studeer rechtsgeleerdheid en heb een bijbaantje in een pannenkoekenrestaurant. In mijn vrije tijd speel ik graag volleybal. Ook houd ik van lezen, bordspelletjes spelen met huisgenoten en plantjes verzorgen. Ik kijk erg uit naar aankomend jaar en hoop jullie snel te zien bij een van onze activiteiten!
My name is Sheila, I'm 23 years old and this year I am the board member of politics of DWARS Utrecht. I study law and have a part-time job in a pancake restaurant. In my spare time, I like to play volleyball. I also enjoy reading, playing board games with housemates and taking care of plants. I am really looking forward to the upcoming year and hope to see you soon at one of our activities!
Contact: politiek.utrecht@dwars.org
Bestuurslid Campagne & Communicatie – Sterre D'Agata (tweede van rechts) / Campaign and communication member (2nd from the right)
Ik ben Sterre, ik ben 16 jaar oud en bestuurslid Campagne en Communicatie. Ik doe nog 6 vwo op het Cals College, maar ben van plan na een tussenjaar politicologie te studeren. Ik woon in Houten en mijn grote passie is muziek. Ik kijk ernaar uit om mooie promoties en een toffe campagne te maken!
My name is Sterre, I'm 16 years old and a member of the Campaign and Communication Board. I am in my sixth year at Het Cals College, but after a gap year, I plan to study political science. I live in Houten and my great passion is music. I am looking forward to making great promotions and a great campaign!
Contact: campagne.utrecht@dwars.org
Bestuurslid Activiteiten – Rens Kersbergen (helemaal links) / Member of activities (left)
Mijn naam is Rens, ik ben 22 jaar oud en ik studeer de deeltijd PABO aan de Marnix Academie in Utrecht. Daarnaast ben ik vaak te vinden bij klimaatprotesten, DWARS-activiteiten en het Welnu Taalcafe. Mijn doel voor dit jaar is om activiteiten toegankelijker te maken en daarom laat ik het bedenken van activiteiten niet alleen over aan mezelf, maar ga ik goed luisteren naar jullie. Alleen samen kunnen we ervoor zorgen dat DWARS nog inclusiever en toegankelijker wordt dus stuur vooral een mailtje naar me als je een idee hebt voor een DWARS activiteit waar jij enthousiast van wordt.
My name is Rens, I'm 22 years old and I study the PABO part-time at De Marnix Academie in Utrecht. I can often be found at climate protests, DWARS activities and Het Welnu Taalcafe. My goal for this year is to make activities more accessible, so I won't just leave it to myself to think of activities, but I will listen to other members as well. Only together can we make DWARS even more inclusive and accessible, so if you have an idea for a DWARS activity that excites you, please send me an e-mail.
Contact: activiteiten.utrecht@dwars.org