Recepten / Recipes
Dit is de verzamelplek voor veganistische recepten van DWARS Utrecht. Wil jij jouw favoriete recept (zoet, hartig; alles mag) met de afdeling delen? Stuur jouw recept (met foto) dan naar de secretaris.
This page is dedicated to vegan recipes from DWARS Utrecht. Do you want to share your favourite recipe (sweet, savoury; anything goes) with the department? Send your recipe (with photo) to the secretary.
Vegan burger
Stijn Rombouts
Dit recept is voor 4 personen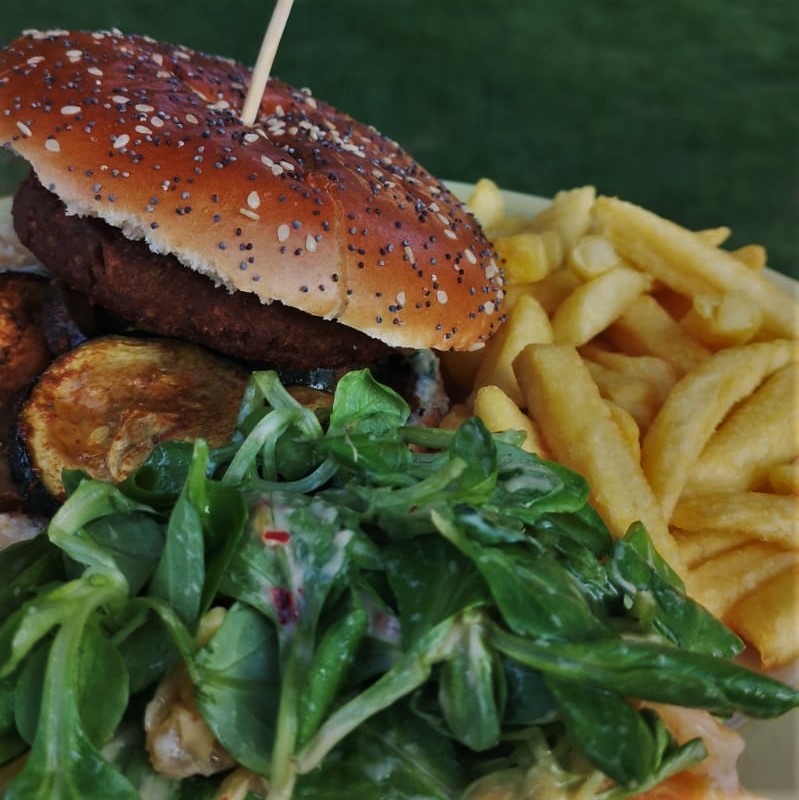 Ingrediënten
1/2 courgette
1/2 aubergine
1 tl ras el hanout
½ tl knoflookpoeder
Een vleugje peper
Een vleugje zout
2 el olijfolie
Een stukje komkommer
150 g sojayoghurt
1 teentje knoflook
Een vleugje peper
Een vleugje zout
Een scheutje citroensap
4 veganistische burgers naar keuze
4 veganistische burgerbroodjes (de burgerbroodjes bij AH zijn veganistisch)
Verwarm de oven voor op 200 graden. Snijd de courgette en aubergine in plakken en marineer de stukken in een marinade van olijfolie, ras el hanout, knoflook, zout en peper. Bekleed een bakplaat met bakpapier en leg hier de plakken groente op.
Rooster de gemarineerde stukken in de oven. Zodra er wat kleur op de groente komt en ze mooi zacht zijn, zijn ze klaar.
Gril wanneer de groenten bijna klaar zijn de burgers in een pan.
Rasp ondertussen de komkommer en pers zo veel mogelijk water eruit met een theedoek. Meng de komkommer met de sojayoghurt en voeg knoflook, zout, peper en wat citroensap toe. Hiermee is de tzatziki voor op de broodjes klaar.
Rooster de burgerbroodjes nog even knapperig en een droge pan. Verdeel vervolgens de tzatziki, gegrilde groenten en burgers over de broodjes. Serveer met friet en een (fruit)salade.
Vegan burger English recipe
This recipe serves 4 people
Ingredients
1/2 courgette
1/2 aubergine
1 tsp ras el hanout
½ tsp garlic powder
A dash of pepper
A pinch of salt
2 tbsp olive oil
A piece of cucumber
150g soya yoghurt
1 clove of garlic
A pinch of pepper
A pinch of salt
A dash of lemon juice
4 vegan burgers of your choice
4 vegan burger buns (the AH burger buns are vegan)

Preheat the oven to 200 degrees. Slice the courgette and aubergine up and marinate the pieces in a marinade of olive oil, ras el hanout, garlic, salt and pepper. Put baking paper on a baking tray and place the vegetable slices on it.
Roast the marinated pieces in the oven. The vegetables are ready as soon as they get a little colour and are nice and soft.
When the vegetables are almost ready, grill the burgers in a pan.
Meanwhile, grate the cucumber and squeeze out as much water as possible with a tea towel. Mix the cucumber with the soy yoghurt and add garlic, salt, pepper and some lemon juice. This completes the tzatziki for the buns.
Roast the bread rolls in a dry pan until they are nice and crispy. Then spread the tzatziki, grilled vegetables and burgers over the buns. Serve with fries and a (fruit) salad.
Appelkruimelpuddingtaart
Door Robin Rauws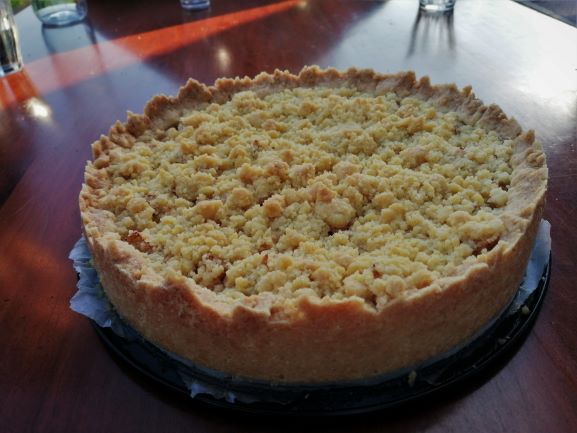 Ingrediënten voor het deeg:
225 gram margarine in stukjes
150 gram suiker
300 gram bloem
Scheutje vanillearoma
Verwarm de oven voor op 180 graden. Kneed de ingrediënten tot een soepel deeg, maak er een bol van en leg het in folie voor een uurtje in de koelkast. Vet daarna een bakvorm in (het liefst een grote springvorm; het is vrij veel deeg) en verdeel hier het deeg in. Zet de bakvorm met het deeg 5 minuten in de oven.
Ingrediënten voor de pudding (ook in deze groep gevonden):
55 gram custardpoeder
70 gram suiker
250 ml plantaardige room
250 ml plantaardige melk
Scheutje vanillearoma
Meng eerst de suiker met custardpoeder. Doe dit vervolgens in een pan met de room, melk en vanillearoma en zet op een laag vuur. Klop goed om de klontjes eruit te krijgen. Het mengsel moet even aan de kook zijn geweest en aanzienlijk dikker worden. Daarna kan het mengsel van het vuur worden gehaald en afkoelen.
Ingrediënten voor het appelmengsel:
2 grote appels
Scheutje citroensap
Snuf kaneel
Snijd de appels in kleine blokjes en meng deze met citroensap en kaneel.
Ingrediënten voor het kruimeldeeg:
100 gram margarine
75 gram suiker
150 gram bloem
1 zakje vanillesuiker
Kneed de ingrediënten tot een kruimelachtig deeg ontstaat.
Nu alle elementen bereid zijn, mag eerst de pudding over de taartbodem worden verdeeld. Vervolgens mogen daar de appelstukjes over worden verspreid. Sprenkel daarna het kruimeldeeg over de taart.
Bak vervolgens de taart 30-40 minuten op 180 graden (ik had iets meer dan 40 minuten nodig)
Apple crumble pudding pie English recipe
Ingredients for the dough:
225 grams margarine in pieces
150 grams of sugar
300 gram flour
A dash of vanilla flavouring
Preheat the oven to 180 degrees. Knead the ingredients into a supple dough, shape it into a ball and place it in foil in the fridge for an hour. Then grease a baking tin (preferably a large springform pan; it is quite a lot of dough) and spread the dough in it. Put the baking tin with the dough in the oven for 5 minutes.
Ingredients for the pudding (I also got this within this group):
55 grams of custard powder
70 grams of sugar
250 ml of plant based cream
250 ml of plant based milk
A splash of vanilla flavouring
First, mix the sugar with the custard powder. Then put it in a pan with the cream, milk and vanilla flavouring and put it on low heat. Whisk it well till the lumps are out. After the mixture had boiled for a while it will have become considerably thicker. When it is so the mixture can be removed from the heating pot and cool down.
Ingredients for the apple mixture:
2 large apples
A squeeze of lemon juice
A pinch of cinnamon
Cut the apples into small cubes and mix them with the lemon juice and the cinnamon.
Ingredients for the crumble topping
100 grams of margarine
75 grams of sugar
150 grams of flour
1 sachet of vanilla sugar
Knead the ingredients until there is a nice crumbly dough. Now that all the elements have been prepared, spread the pudding on the pie crust. Then spread the apple pieces over it. Then sprinkle the crumble topping over the pie. Bake the pie for 30-40 minutes at 180 degrees (I needed a little more than 40 minutes) and you're done.
Vegan Prei/wortel Pannenkoeken
Door Rens Kersbergen
Dit recept is voor 3 personen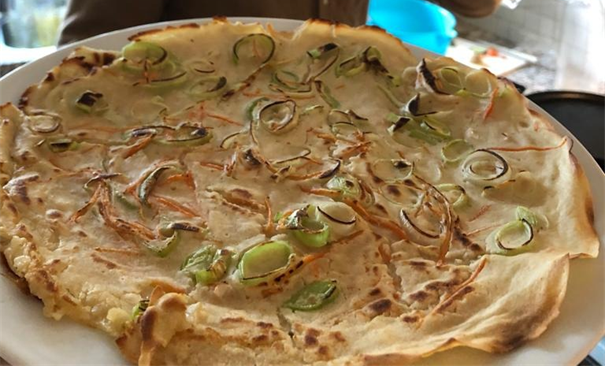 Ingrediënten:
1 prei
150g Julienne wortel
300 gram bloem
700 milliliter havermelk (of andere plantaardige melk)
1 theelepel bakpoeder
1/2 theelepel zout
Olie of boter voor bereiding
Dit gerecht is geschikt als ontbijt, lunch, avondeten of als nachtsnack wanneer je weer niet kan slapen door de problemen veroorzaakt door het huidige kabinet.
Tip: omdat er prei en wortel in het beslag zit, wordt de pannenkoek dikker dan je gewend bent. Zorg daarom dat je de pannenkoek op een laag vuur lang laat bakken.
Bereiding:
Dump alle bloem en de helft van de havermelk in een beslagkom en voeg al mixend de rest van de havermelk toe. Voeg bakpoeder en zout toe en meng goed door het beslag heen.
Was de prei en snij de prei in dunne ringen. Voeg zoveel prei en wortel toe aan het beslag als je wil en roer het geheel zodat het een beetje verdeeld is.
Tip: omdat er prei en wortel in het beslag zit, wordt de pannenkoek dikker dan je gewend bent. Zorg daarom dat je de pannenkoek op een laag vuur lang laat bakken. Laat de koekenpan en de olie opwarmen op een matig vuur. Schep een deel van het beslag in de pan en verspreid met een lepel het beslag, prei en wortel over de pan. Bak de onderkant totdat het donkerbruin wordt. Zet het vuur op de laagste stand en flip de pannenkoek. Bak deze kant totdat de prei net niet verbrand.
Klaar! Gooi de pannenkoek van de keuken naar de eettafel en je bent klaar om de volgende te bakken.
Vegan leek carrot pancakes English recipe
Ingredients:
1 leek
150g Julienne carrot
300 grams of Flour
700 ml of oat milk (or any other plant based milk)
1 teaspoon of baking powder
1/2 teaspoon of salt
Oil or butter for preparation

This dish is suitable for breakfast, lunch, dinner or as a night snack when cannot sleep again because of the problems caused by the current government.
Preparation:
Put all the flour and half of the oat milk into a mixing bowl and add the rest of the oat milk while mixing. Add baking powder and salt and mix it well till there is a nice smoothe mixture.
Wash the leeks and cut them into thin rings. Add as many leeks and carrots as you want and stir it up so everything is evenly spread out.
Tip: because there are leeks and carrots in the mixture, the pancake will be thicker than you are used to. Therefore make sure that you let the pancake bake for a long time on a low heat.
Heat the frying pan and the oil on a medium heat. Spoon some of the mixture into the pan and spread it out. Place the leek and carrot over the pan. Fry the bottom until it turns dark brown. Turn the heat down to the lowest setting and flip the pancake. Fry this side until the leek looks like it is barely burned .
And now you're done! Throw the pancake from the kitchen to the dining table and you're ready to bake the next one.