Sustainable banking
Voor Nederlands, ga naar Duurzaam bankieren.
---
Did you know that the largest Dutch banks spend the majority of your money on polluting and unfair practices? The Action Committee thinks this must change. That is why they have examined for you on which bank you can put your money in a sustainable and ethical way. They used the 'Eerlijke Geldwijzer' (Fair Finance guide, website is in Dutch) to explore how different banks are doing with regards to topics such as gender equality, human rights, animal welfare and climate change. The only bank that scored an 8/10 or higher on each theme included in the guide is the Volksbank, which includes the ASN Bank, the Regiobank and the SNS Bank.
The following organisations have joined the initiative:
Jonge Democraten Amsterdam
Jonge Socialisten Amsterdam
PINK! Noord-Holland
DWARS Amsterdam
DWARS Groningen
DWARS Rotterdam-Rijnmond
DWARS Utrecht
To help you to switch to a different bank, the Action Committee made a transfer guide. You will find the guide below, by clicking on the image. Have fun with sustainable banking!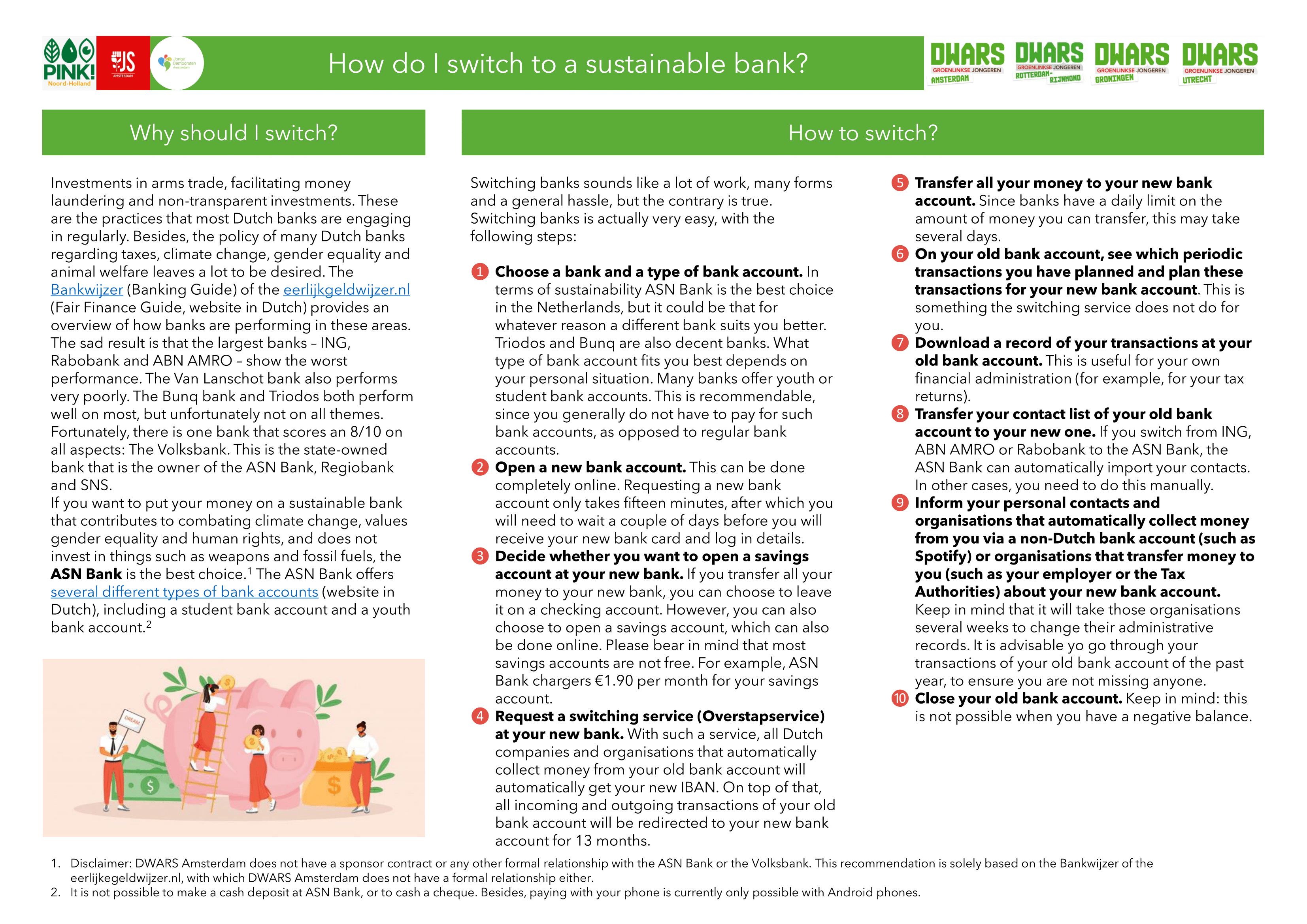 ---
---
Did you switch to a sustainable bank and do you want to share why you did so, or do you have questions about sustainable banking? Please send us your story or question at actie.amsterdam@dwars.org or via Instagram.
Below you can read the experiences of others that already transferred to a sustainable bank!
"I was shocked to see how poorly my own bank was doing, with its misleading green logo (ABN AMRO). With a simple click, I switch to the ASN" – Roos Boerstoel
"When I found out you can make an incredibly positive difference with something that barely costs you any effort I was immediately convinced: sustainable banking is the way to go!" – Anna van der Heijden
"It surely has been over eight years ago that I switched from ING to ASN. This bank came out on top on all aspects in the banking comparer, and that is still the case.
We choose every day what we do with our money by what we consume, while banks are putting our savings in unethical and earth-exploiting practices. I hope that everyone switches as quickly as possible after hearing this" – Margo Mustert
"I think a lot of people do not realise the kind of unsustainable practices their bank is engaging in, which makes sense, because banks are not going to market the fact that they invest in arms trade or are involved in money laundering. Fortunately, the Fair Finance guide makes very clear on which aspects each Dutch bank does or does not score well. The picture is clear: Only the Volksbank (ASN, Regiobank and SNS) scores sufficiently on all aspects. Hence, this is the most sustainable destination for your savings." – Koen Donatz
"After I was informed about the environmentally taxing practices the ING – my former bank – is engaging in, and when I saw that banks like ASN are different, I decided to switch. This is a number of years ago now, and I am still satisfied. This is especially the case because ASN offers the same services as other banks, such as payment requests and money that is instantly transferred to the receiver." – Déwi Hopman
"I have actually been banking at Rabobank since I was 8, because they sold me an account for children, promising a piggy-bank. Never changed. When I got woke I wanted to switch. It took a bit of Googling and reading but fortunately there is the ASN switch service. I can recommend it to everyone, it has more of an impact than you think." – Pieter van Rossum