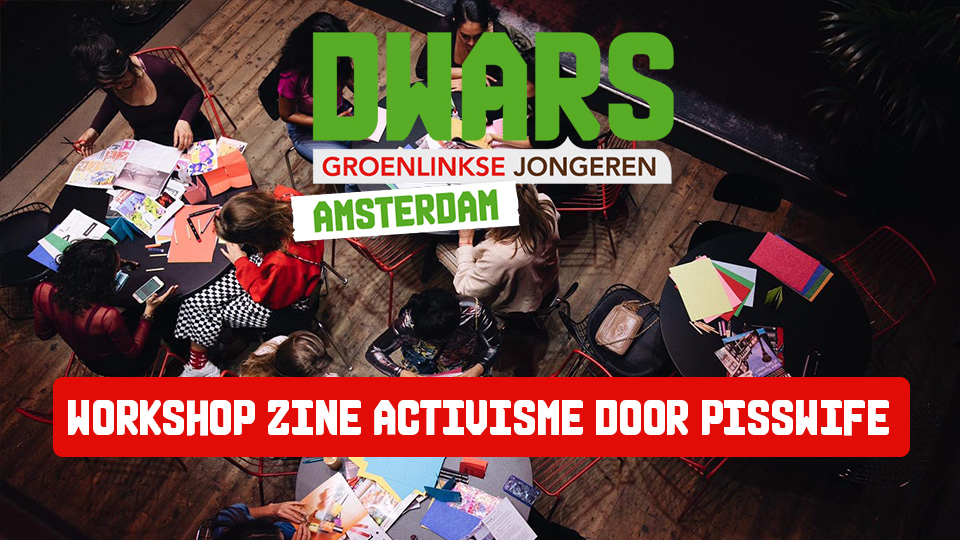 ***ENGLISH BELOW***
Kom met ons knutselen bij deze zine workshop door PISSWIFE & ontdek hoe zines een middel voor jouw activisme kunnen zijn!
PISSWIFE is een intersectioneel feministisch kunstcollectief en zine uit Amsterdam. Eens in de zoveel tijd printen zij een zine, een soort "do-it-yourself" tijdschrift dat artikelen en kunst gemaakt door jonge feministen bevat. PISSWIFE is in essentie een activistisch platform en is ontstaan uit onvrede over de manier waarop feministen gehoord en benoemd worden. Het woord "PISSWIFE" is dan ook ontstaan door de letterlijke vertaling voor het woord 'zeikwijf' terug te claimen.
Meer weten over PISSWIFE? Check hun website: https://pisswife.com
Tijdens deze workshop zullen we niet alleen meer leren over wat PISSWIFE doet, intersectionele feminisme en zine activism, maar ook gaan we onze eigen zine knutselen! Drankjes, hapjes en knutselmateriaal zijn aanwezig, maar voel je vrij zelf wat mee te brengen!
Dit evenement is gratis en de locatie is toegankelijk voor rolstoelgebruikers. Dit evenement zal (gedeeltelijk) in het Engels zijn.
Wat? Zine workshop door PISSWIFE
Waar? CREA (Nieuwe Achtergracht 170, Amsterdam), lokaal 2.13
Wanneer? Dinsdag 11 februari
Hoe laat? Start 19:00, Mee-eten 18:00
Ben je aanwezig? Meld je hieronder aan:

Oeps! We konden je formulier niet vinden.
***ENGLISH***
Come craft with us at this zine making workshop by PISSWIFE & find out how zine making can be a means to your activism!
PISSWIFE is an intersectional feminist art collective and zine based in Amsterdam. Every once in a while they print a zine, a do-it-yourself "magazine" that contains writings and visual artworks created by young feminists.
"PISSWIFE is run by feminists that wish to share little pieces of their lives here in Amsterdam. We are all individuals with divergent opinions on various topics, however we all share the idea that PISSWIFE – as a space for young feminists to just exist – is inherently a political project. The idea of being a PISSWIFE comes from our frustrations towards the ways in which voiced feminists are received and often named, not only in this city, but across the world. As PISSWIFE is a made up name – a re-appropriation and mistranslation of the Dutch swearword 'zeikwijf' – it is out there for any feminist to claim, no matter their gender, sexuality, or race. Amsterdam is the city that brought us together and thus serves as the backdrop to our activism."
Want to know more about PISSWIFE? Check out their website: https://pisswife.com
During this project, you'll learn more about PISSWIFE, intersectional feminism, zine activism and how to make your own zine! We've got drinks, snacks & craft material for you, but feel free to bring in anything you like!
This event is free and the location is accessible to wheelchair users. This event will be (partly) in English.
What? Zine making workshop by PISSWIFE
Where? CREA (Nieuwe Achtergracht 170, Amsterdam), room 2.13
When? Tuesday February 11th
What time? Start 19:00, Dinner 18:00
Sign up for the event here!

Oeps! We konden je formulier niet vinden.
Locatie: CREA, Nieuwe Achtergracht 170, lokaal 2.13
Afdeling: DWARS Amsterdam
Tijd: 11 February 2020 19:00