English follows Dutch
---
Deze activiteit wordt niet georganiseerd door DWARS
Kijk samen met andere GroenLinksers en oud DWARS Amsterdam voorzitter Sabine Scharwachter naar de Kerdijklezing door Jesse Klaver op 7 oktober!
Op vrijdag 7 oktober om 18:00 geeft Jesse Klaver de Kerdijklezing met de titel: 'Een nieuw begin: de belofte van linkse samenwerking.'
Vanaf 17:30 ben je welkom bij Ru Pare in Amsterdam om deze lezing via een livestream samen met andere GroenLinksers te volgen én hier na afloop over na te praten. Drinken en snacks worden verzorgd.
Ru Paré, Chris Lebeaustraat 4, Amsterdam, vrijdag 7 oktoer, 17.30
Meld je hier aan als je erbij bent: bit.ly/3SFvzxU – Aanmelden is niet verplicht, maar helpt om een inschatting van de opkomst te maken.
---
This activity isn't organised by DWARS
Join other GroenLinksers and ex-chairperson of DWARS Amsterdam Sabine Scharwachter in watching the Kerdijklezing held by Jesse Klaver on October 7th!
On Friday October 7th at 18.00 Jesse Klaver will be holding the Kerdijkreading titled: 'A new beginning: the promise of left-wing cooperation.'
You're welcome from 17.30 at Ru Paré in Amsterdam to watch the reading via livestream with other GroenLinksers and to have a chat about it afterwards. Drinks and snacks will be made available.
Ru Paré, Chris Lebeaustraat 4, Amsterdam, Friday October 7th, 17.30
Sign up here if you're joining: bit.ly/3SFvzxU – Sign-up is required, but helps to indicate how many people will turn up.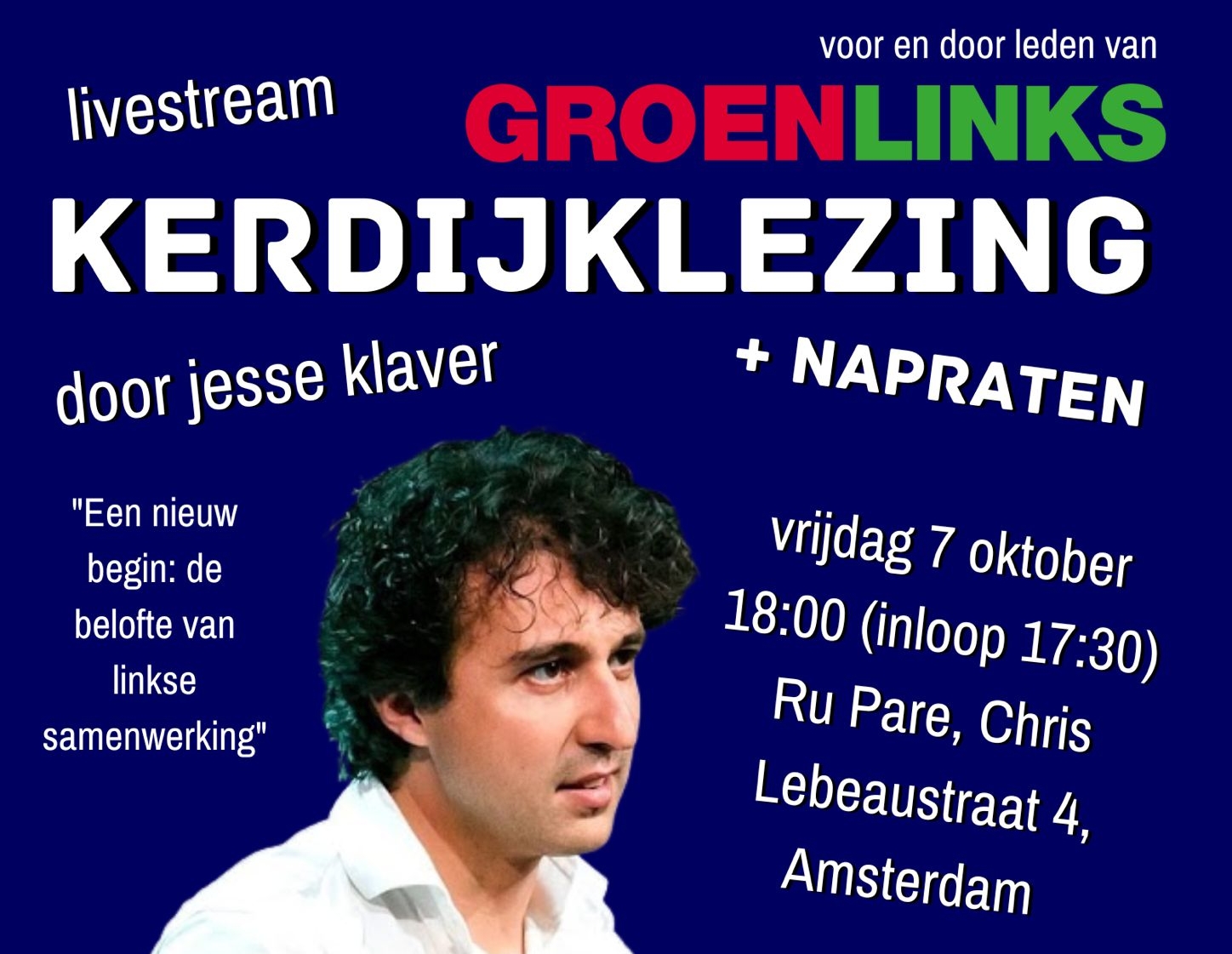 Locatie: Ru Paré, Chris Lebeaustraat
Afdeling: DWARS Amsterdam
Tijd: 07 October 2022 17.30